It all started when…
Tiffany and I were living in New Zealand. We were living a very different nomadic life style never staying in one place for long. We discovered the permaculture and minimalist movement and told ourselves when we made it back to the US that we would build a tiny house.
Two years later we have just finished our build and wanted to share it with those who are interested in what we have accomplished. Below is the story of our process with everything ranging from costs, designs and all that we have learned along the way.
This project took roughly two years from first starting to draw designs to when we moved into our Tiny House. The biggest reason it took so long is we didn't hire anyone to do anything. We also both work three jobs each so with that in the way we usually got to work on it one or two days a week at most. There were months where we were able to work just a couple days. It was during this winter (2017/2018) due to the unusually warm and dry weather we decided to just push ahead and finish it by the end of April.
We moved in May 3rd, 2018.
Here are a few quick facts on the build:
Design: Entirely TIffany and Abe, we considered paying for fancy tiny house plans but nothing seemed to fit our lifestyle and needs so we jumped in the deep end and started from scratch.
Actual total working days: about 63
We mostly only worked on Tuesday's and the occasional Wednesday since we each work 3 jobs.
Cost Break Down
Box Trailer Cost: $7300 NEW
Total Materials Cost: about $6000 (maybe a little more, we lost several receipts)
Tools: Due to the fact that Martin (Tiffanys Dad) had nearly every tool we needed, we only spent about $75 on tools. If we hadn't been able to use his tools, we would have needed to buy a table saw, drill press, router, welding kit, drills, hand saws, tile saw, etc. If you are considering buidling your own, you'll need to factor in another several thousand for decent tools.
Solar Cost: $3300
We just ordered 600 watts of solar and almost 600ah of battery storage. This is enough for any typical house usage such as lights, fans, tv use for several hours and laptop and phone charging. We will be able to use the microwave briefly or the electric pot for boiling water if we don't want to use the gas hob. Eventually we plan to increase our solar to 1300 watts so we can run AC during the day if we are in a very hot climate. We have a 2000w generator that will be arriving soon that we will use for AC while off grid during the day. Since we just completed the build we are still plugged into shore power while we get the rest installed.
Total cost of everything: $16,600
Labor: We didn't pay anyone to do anything on the build, but if we had hired someone to build and design everything the cost would have jumped much higher. Lets say we found two skilled builders who we trusted who would work for an industry average cost of $25 an hour (Many builders would probably charge more). Lets say that those laborers worked an average of 8 hours per day which is probably underestimating how much we worked. That cost would equal just over 1000 hours which would have cost $25,200 in labor.
We also will be installing our solar with the help of both of our dads and our good friend Matt who is very knowledgeable with solar. If we hired someone to install that we could add another $1000 or so.
Saved labor cost: $25,200 (probably more)
In reality, this is a $41,800 tiny house which compared to many out there is still rather inexpensive. I'd say we did pretty good!
Donated: We were very lucky to have Martin donate a huge amount of his time teaching us how to use certain tools and countless other skills such as wiring and plumbing. Without him, we wouldn't have been able to do this project. Materials such as Hickory (HUGE thanks to Juston) and welding (HUGE thanks to Rick) were also donated to us. You both saved us hundreds of dollars and we can't thank you enough!
The Build
First we began by getting some fancy drafting paper and drawing our rough plans out. We had two iterations and that was it. We didn't want to set everything in stone for our first massive construction project so we didn't measure everything out to the centimeter.
Just rough plans.
3d render to get a sense of things.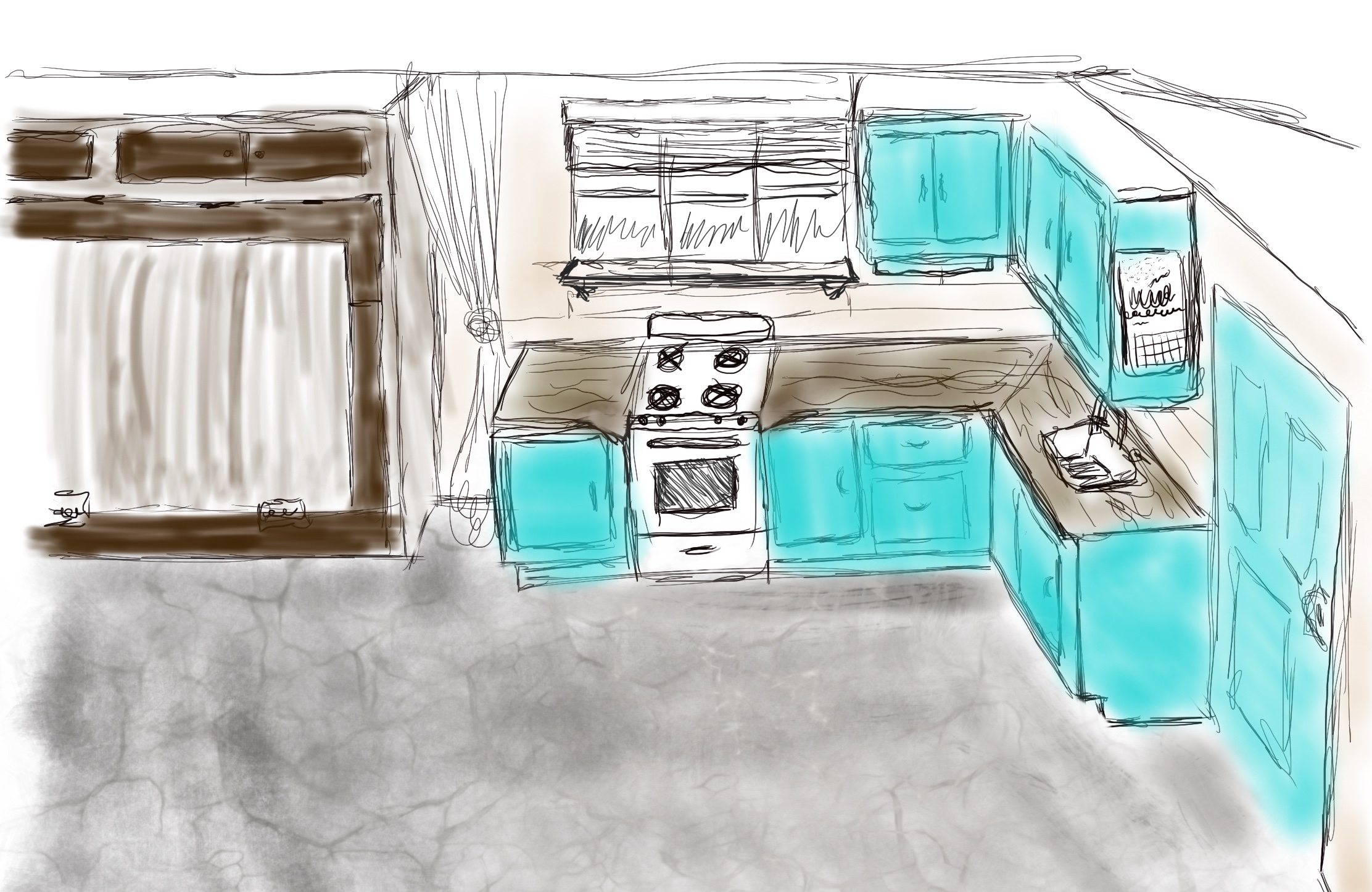 We never bothered redrawing our plans along the entire build. The only thing we did was change the placement of the water tanks to under the floorboard in the center of the trailer and move the batteries under the couch at the back.
We started with a cargo trailer meant for hauling vehicles long term. We made this decision for a couple reasons. We wanted something that was factory built to haul heavy things, and equally important we wanted something that was easy to travel with, road legal, and insurable. If we had built our own trailer bed and or walls ourselves, getting it inspected at the DMV and insured could be troublesome.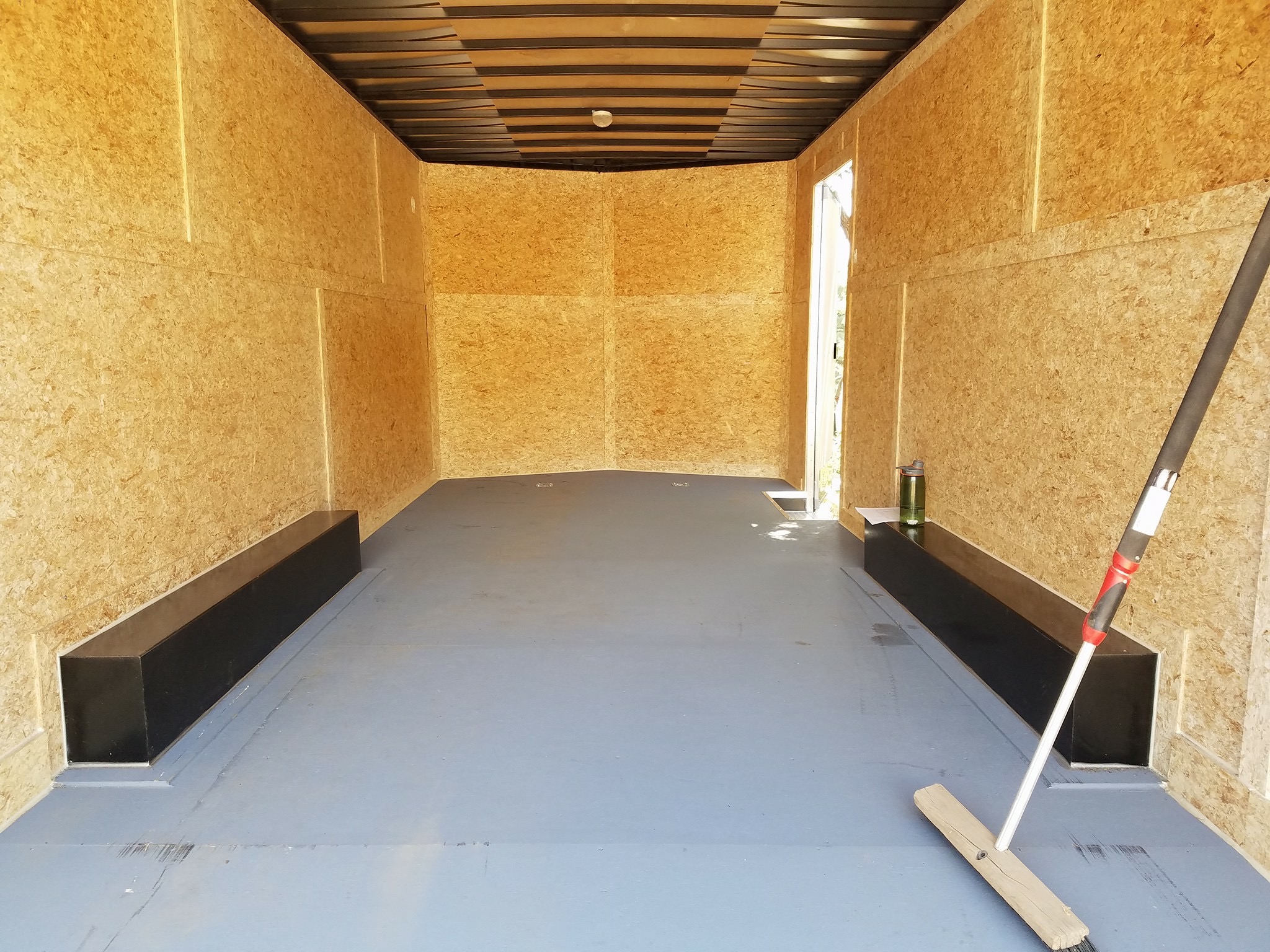 Below is what it currently looks like on the outside.
We chose this design for several reasons, it is extremely light weight for a full-size trailer and empty weight was just over 1 Ton. Its 20 feet long and it has a fold down door to drive a vehicle up onto which we had plans to use for our fold out deck. We also wanted something that was stealthy so when we travel with it and left it in a parking lot or campground it was just an unassuming box trailer. We didn't want to attract attention with a tiny house that was obviously a tiny house. When we buy land and take the wheels off and put it on a pad, we may replace the metal siding with a more appealing traditional wall exterior made of wood, but that is several years away. At that point we will building our long term goal, a Cob House, so that may take priority. To read more about Cob and earthen building, click here.
We began by pulling down all the wood the box trailer came with and placing 1" thick PolyISO rigid core insulation on all sides and along the roof. During this installation of insulation we sealed all visible cracks and crevices with pure silicone rated for 50 years. We didn't wan't any leaks in our walls.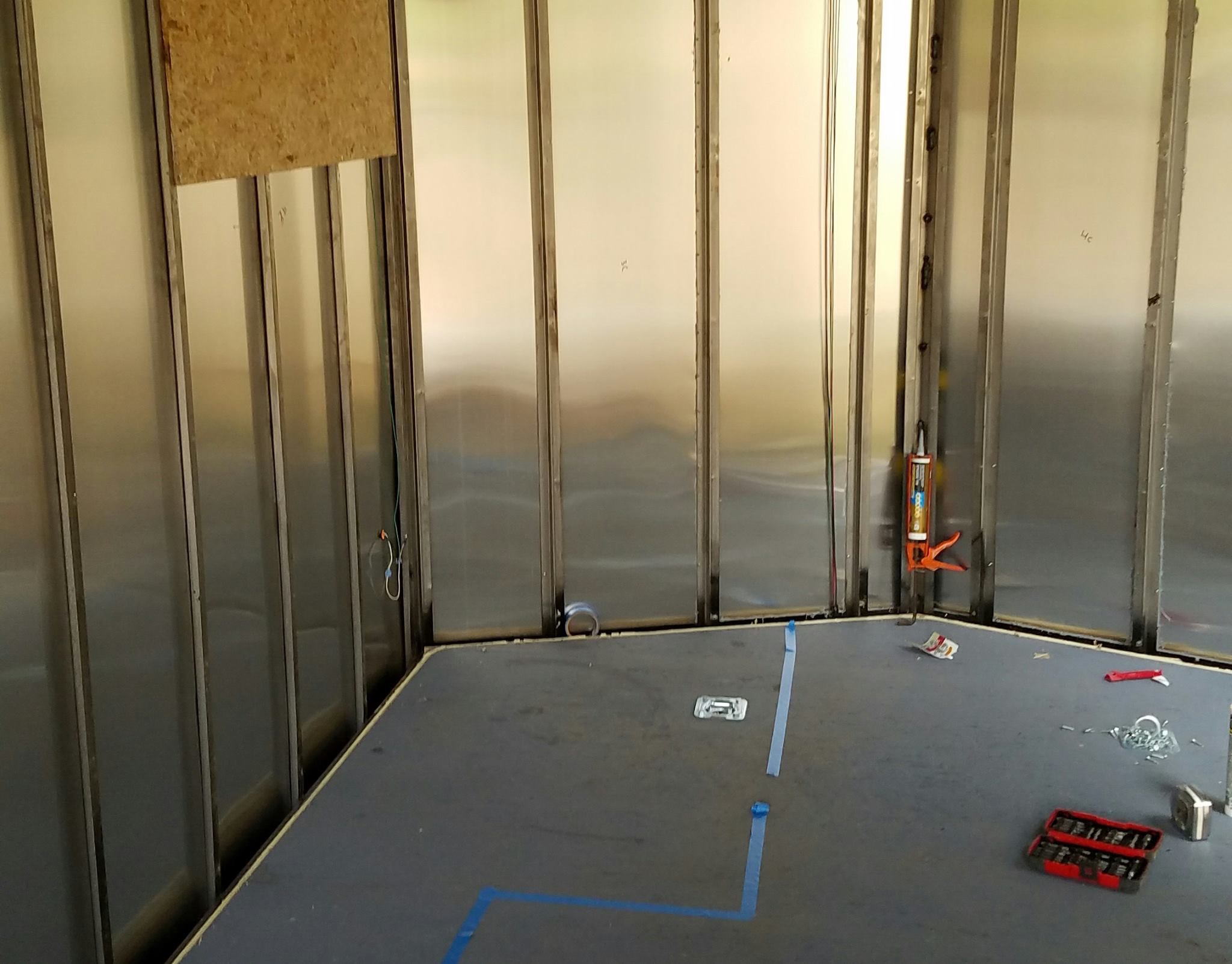 We used 6 bottles of pure silicone just on the interior wall seams. You can also see our taped out floorplan for the bathroom and kitchen cabinets.
This took a fair amount of time only because we hadn't fully decided where our outlets were going to be, or our windows. We also had no idea what we had gotten ourselves into. :D
Below, Abe is sealing cracks where the battery box will go. Before the expanding foam you could see the ground. We needed a seal everywhere to keep bugs and critters out.
After finishing installing all the wall insulation we spent a few weeks looking for a specific type of window. The studs on the trailer are spaced roughly 16" apart and we (Abe) didn't want to cut them to put a window in the kitchen area. We finally found some vertical slide 15" wide windows and put three of them side by side. After living in the house for nearly a month now, and using the stove almost every day, it was a great decision we made. We can open just one of them a tiny bit for ventilation or all the way for massive air exchange when running the stove/oven or when we need to get cross ventilation from the back deck part of the house.
Lots of glue on the edges
Tin snips became a common tool
We used another couple of bottles sealing the edges. We don't need any leaks!
Next we started building our bathroom wall. This is located in the front nose of the trailer and is roughly 25sq feet. We decided to sacrifice space in the bathroom where we will spend the least amount of time so that we could have an increased living area.
We settled on a pocket door design rather than a curtain as many tiny houses have, or a traditional door which would have been a huge waste of space.
Building this first wall taught us a lot about how our trailer was built such as how it is higher by several inches in the middle than at the sides. We left part of the wall closest to the kitchen empty as we knew later on in the build we would be running the pex pipe for hot and cold water to the water heater mounted to the front of the tiny house.
After building the bathroom wall we moved onto the cabinet design and build. Tiffany wanted as much space as possible for countertops and an oven was an absolute must. We found a factory reject oven (it has a small scratch on the BACK) at a shop in town for more than half the ticket price and installed it first, so we could build around it. It has 4 full size burners and a sizable oven and warmer compartment. Building the left side of the kitchen cabinets was tricky as this was exactly where we placed the water inlet for the freshwater tank and water pump. We left enough room behind the cabinet so that we could get to the pump and inlet if we needed to modify or fix anything. The other two cabinets have sliding drawers underneath for extra space.
The look on Abe's face says it all...is this really going to work!?
Water comes in from the inlet, goes straight to tank, then gets pumped out and pushed to the sink and shower and hot water heater. Also can be bypassed by a waterline with pressure in a campground or house.
You can also see the gas line coming up from the underside.
Abe built these in a couple of days using plywood for the frame. It was a cheap and light alternative to hardwood that was mostly going to get covered up.
One of the first major projects
This was also the time to make sure the hot and cold water lines were ran to the sink behind the cabinet. You can also see our toe kick drawers underneath.
Martin showed us the right way to make drawers using no screws or nails.
Countertops were at first something we considered buying but for the odd space and with weight being a consideration Tiffany took on making them out of MDF board and using a food safe resin from Stone Coat Countertops online for the actual top of them.
Tiffany did a wonderful job. Our countertops look fantastic, are very functional and are easy to fix if scratched. They also are very durable in that you can place a hot pot directly on them and they won't melt.
Behind the cabinets we ran pvc pipe for the shower drain and sink drain to the grey water tank. We also ran a water inlet that runs from the waterpump and then a bypass for if we are hooked up to a city main or hose or rv Park when traveling. The inlet runs directly to the sink and then splits to the water heater and back to the shower and sink for hot water.
Shower almost ready to install
You'll notice there is no u-bend in the shower, we didn't have the clearance above to raise it even higher and we didn't want to put it under the floor. It works fine and gives the greywater tank a chance to breathe and won't create a negative pressure inside. It also doesn't smell as it is directly below our bathroom fan.
After the kitchen we moved on to our cabinet wall and murphy bed. . Its roughly 8x8 feet of storage space 18 inches deep. We each have two columns of space for storage. We drilled adjustable holes for the shelves every 2 inches so we can adjust for larger items in the future. We also made our cabinet doors out of hickory that our friend Juston was SO kind to donate to us. They look absolutely amazing. We will be installing them in the next couple weeks as we just stained them.
Adjustable holes for the shelves
The look on Tiffanys face says it all. We ended up wasting an 8' long plank of the wood we were using when we were dovetailing. We forgot to flip it to match with the next dovetail cut. Oops!
Across from the cabinet wall is our Murphy Bed.
Planning the Murphy bed was actually quite challenging as we had to figure out how deep our mattress would be and how high it would be when folded against the wall. We used a router to make dovetail joined edges of the bed frame and glued it together. We didn't want screws or nails to be visible when the bed was down. We ordered powerful springs online meant for a Murphy bed but when they arrived it was just the springs and a piece of paper in broken English that said: "Install spring to bed, attach to wall and it finish."
We were hoping for a little more of an explanation so figuring out how much room they needed to pivot took some time. After we built the frame and installed it to the wall it now looks great and works perfectly. Because of the springs one person can easily lift it and put it away in the morning.
They were not easy to install.
After the murphy bed and cabinet wall were installed we began work on the back wall for our patio and what would become our main entrance. We also installed all the knotty pine on the interior walls which we for some reason only got this picture of. ¯\_(ツ)_/¯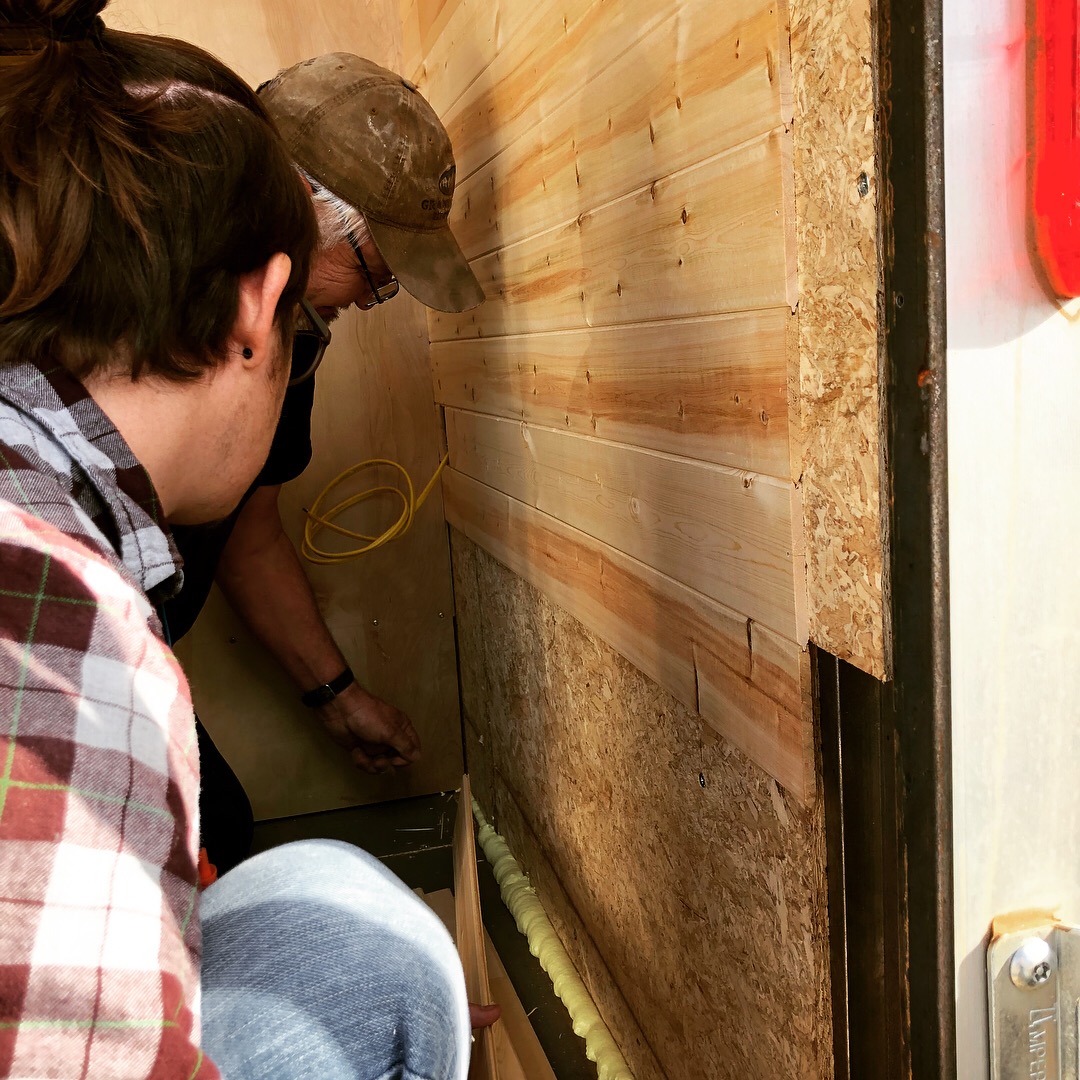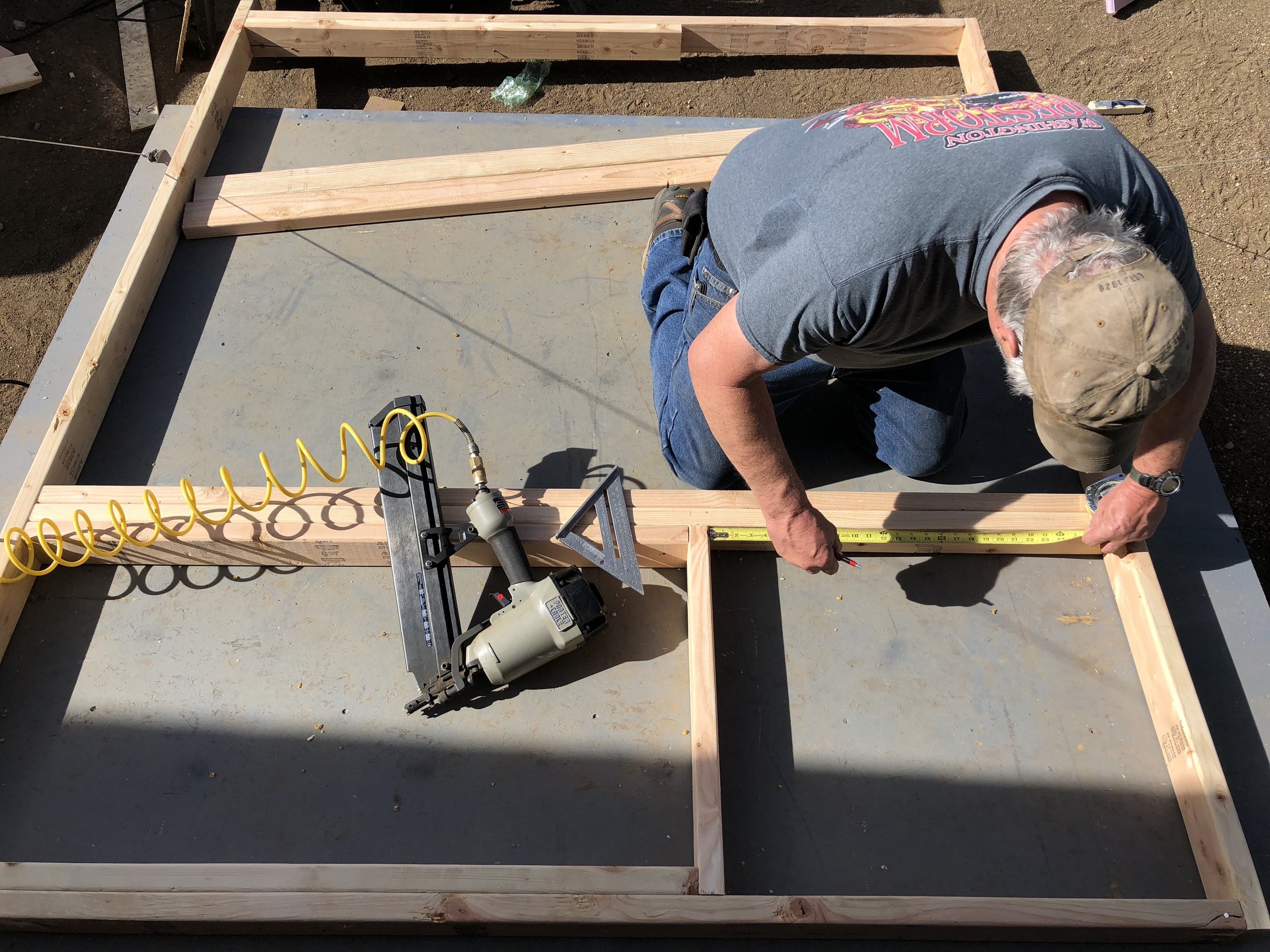 Sizing the wall and placing the windows.
The progression in the images below is one of my favorites from the build. We start with the skeleton and slowly build it up to the finished knotty pine look on the exterior and interior.
We used typical R-19 house insulation for the back wall. Our windows are also double paned which will help on hot or cold days.
When the tiny house is closed, its a stealth trailer that you'd never know is a nice home on the inside. When the back deck is down we have a sizable expansion to our living area covered with very nice think faux grass. We made this decision for several reasons. One of which, when we are traveling around the US and Canada and we leave it somewhere for a period of time, we won't worry about attracting attention. Also, we can visit more places, national parks, etc with this, as true "Tiny Homes" are banned in many such areas.
Next we moved on to more finishing touches. Along the upper corners of the tiny house is where we decided to run our conduit for both 12volt lights/fans/pumps and the outlets for standard AC and DC power. Abe came up with a way to build knotty pine pieces into several rows and then attach to the ceiling and wall to hide them. We didn't wan't to permanently box them in incase we needed to make a modification in the future. The finished look is pretty nice as it gently curves from the wall to ceiling. We also planned on hanging Tibetan prayer flags and other decor that would likely cover up the gap. After living in it we realized you don't even notice it.
Next up was more finishing touches such as painting and flooring.
For the flooring we used RedGard as a moisture barrier rather than some kind of rubber that would bunch up or get moved. We painted it on and then sealed all the screw holes with wood filler/fixall. Then we sanded everything so we had a smooth clean surface to attach the vinyl flooring to.
The first bit of flooring
Because both the cabinet wall and murphy bed were built on top of the wheel wells we had a solid base to place two very heavy objects. Abe built soffits for the side facing the house and placed insulation between it, then covered with more knotty pine to match our finished look.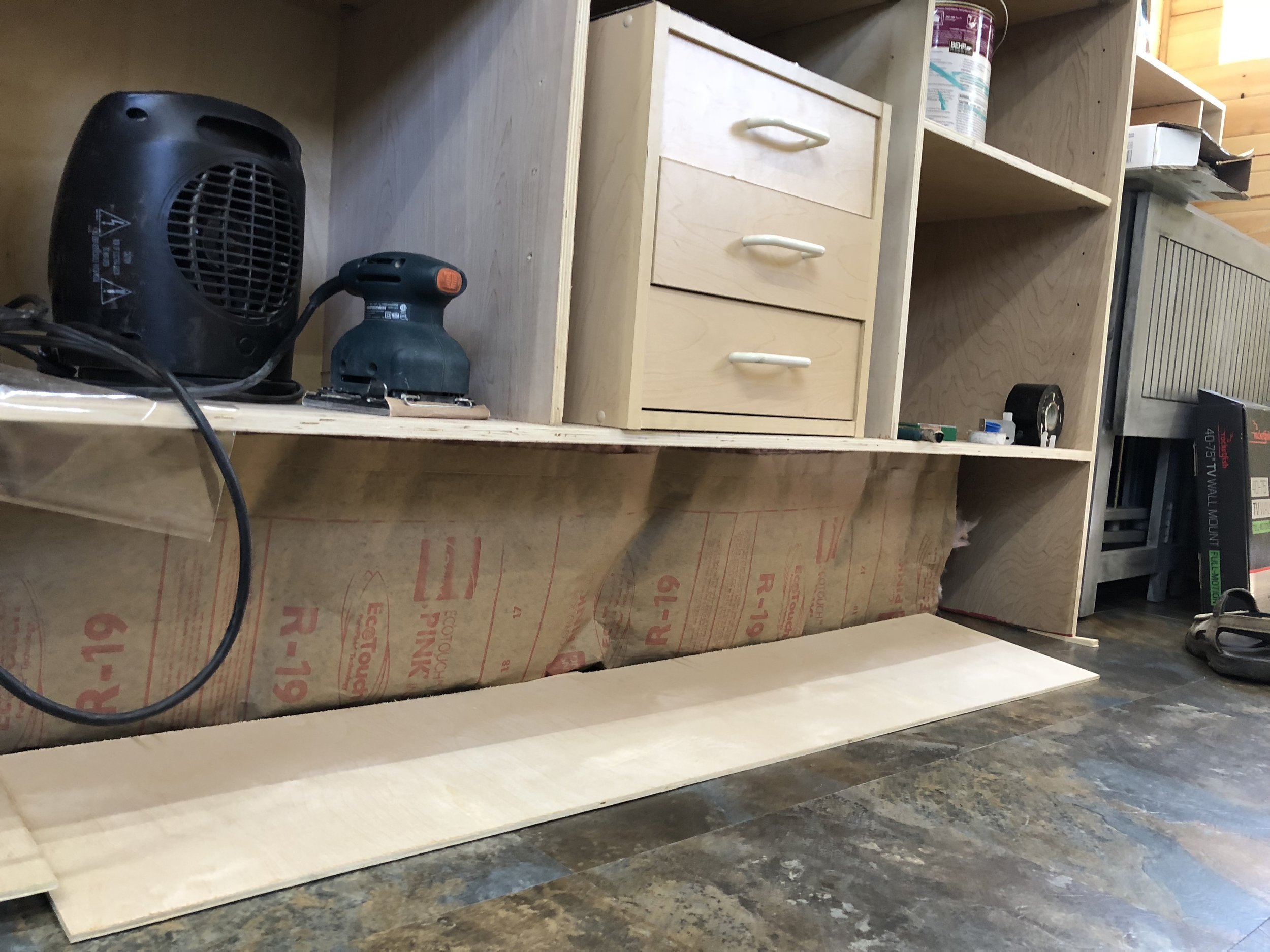 Next up was finishing the shower design. This was another tricky job as we had to build a platform that was at a slight angle so when showering, the water would make its way to the drain. Of course a prefab shower pan and liner would have been great to use but our space was so different we had to build from scratch like everything else. At the bottom is a 3/4" thick 9 ply piece of plywood with 2x6 boards cut for support. It is all nailed and screwed together for support and then covered with MDF board. Above that is shower liner covered by Hardie Board for the shower base which is then covered in the tile we picked out.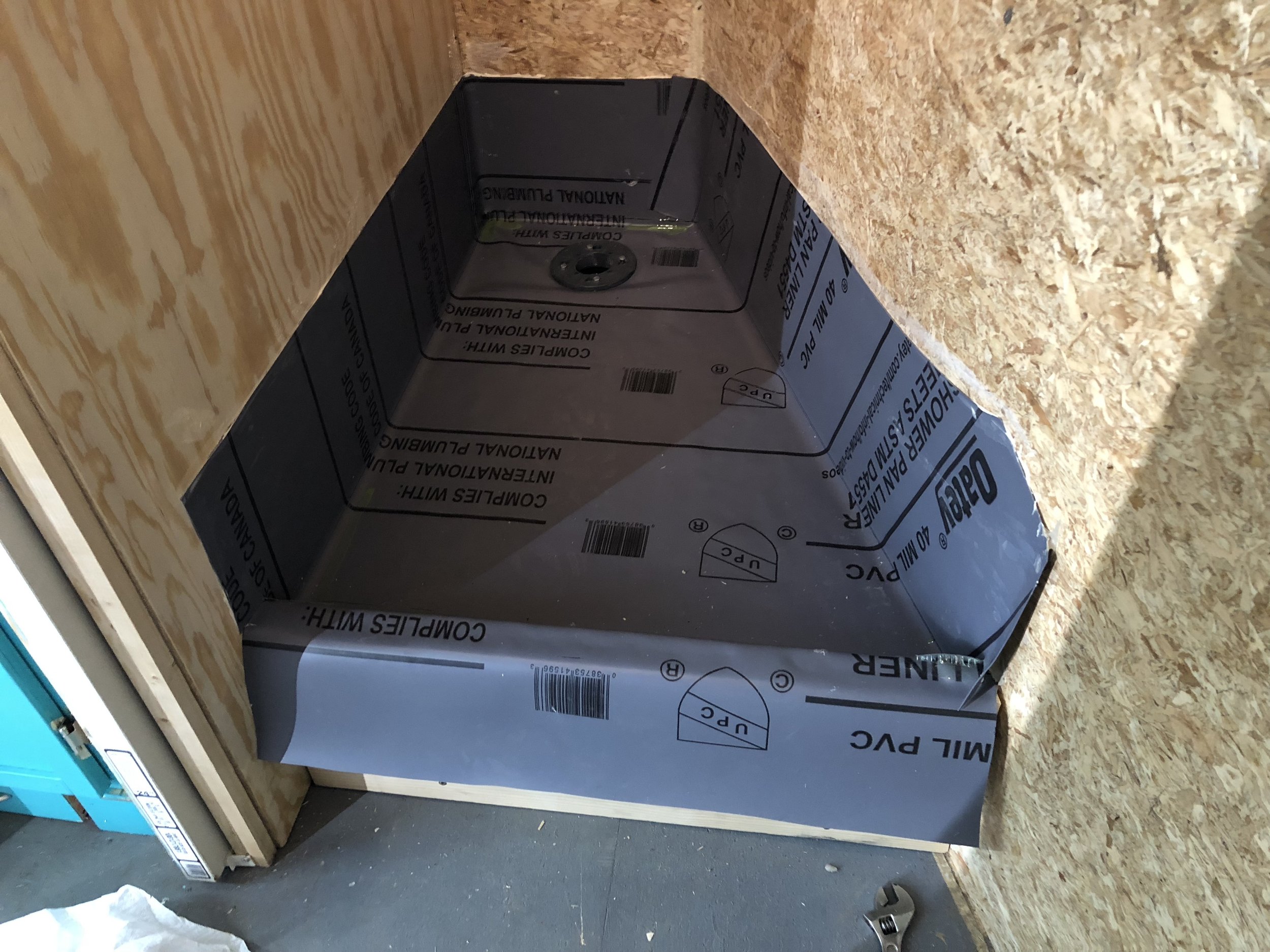 We also put RedGard in the shower along all the walls and seams. We then covered the seams in silicone to keep water out. IF anything leaks, we have the shower liner to keep water from the untreated wood.
Tiling and lots of cement
Tiffany carves Jade for her business Carve and we decided she would probably do the best job with the tiling. She did an AMAZING JOB.
Knotty pine on the walls while the tile sets.
Finshed after sealing the walls and grout.
After the tiling and flooring we were almost ready to move in. The next project was the worst on the whole build. We had yet to insulate the trailer floor as all of our other projects kept getting in the way. Also we couldn't have done it first since we purchased a pre built trailer and couldn't flip it over. We had just been putting it off later and later. We decided on rock wool insulation which has so many great properties. Its basically fire proof (up to 2100 degrees) and is naturally hydrophobic which means it will resist mold growth.
Abe found bats of it that were the perfect width for our frame underneath. He spent about 6 full 12 hour days to get it all installed. The reason it took so long is the highest we could jack up the trailer was 15 or so inches which made it VERY difficult to drill holes in the frame for the coroplast which held the rock wool in place.
Would you believe all five packs fit in our Ford Escape.
The rockwool expanded enough to hold itself up while we cut the Coroplast.
Every inch of the underside needed to be covered.
We used heavy duty HVAC tape to seal the cracks in the coroplast and along he edges.
Finished. Our underside is all sealed up from any kind of moisture.
Now that we've been living in it for the past 50 days we have had the luxury of fine tuning our tiny house while we are waiting for the forest to open and then plan to take it on some trips across the southwest. Little tweaks to lighting in the bathroom and the addition of a small AC unit that we will take out during the winter have made it much more livable. We installed our Dometic CFX95dzw fridge that can run on both 12V or AC power. We added a microwave, our Natures Head compost toilet and on demand hot water heater to the front of the trailer for hot showers.
When the winter comes, we will mount a gas room heater to the right of the bathroom door which will be connected to our our gas bottles mounted on the hitch next to the generator.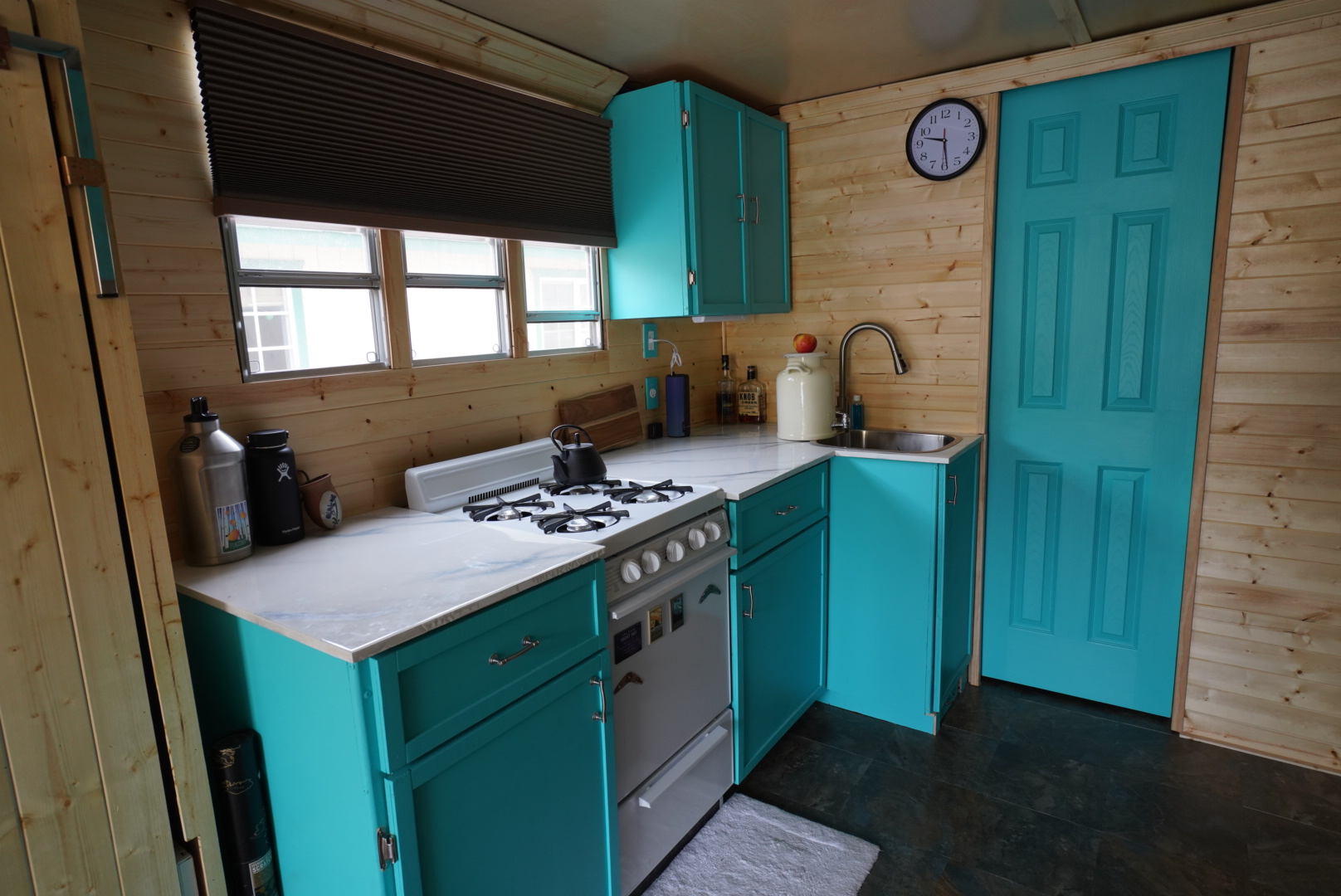 We have cooked many meals in our tiny kitchen. Its actually not that tiny.
Our Natures Head compost toilet works really well. It was expensive but its very well designed and easy to clean. There is no smell and liquids only need to be changed every week, with solids about 3-4 weeks.
We wanted a nook to read or hang out while playing a game or watching TV. Its comfortable enough for two people to sit but for one to lay down is perfect. It wouldn't be complete without our Kiwi pillow Abe's parents brought back from New Zealand. Above the nook is where our electrical controls are housed such as our breaker box and fuse box.
In the left of the bottom image you can see our 450 cubic ft AC unit. That is more than double the square footage that we have so it has been very effective at cooling. On the 91 degree day we had recently it was a cool 71 degrees in the house.
When the bed is down it takes up the main area but its only while we are sleeping.
This is the stuff that makes it a home.
Abe's mom made us this incredible quilt for our bed. We just need to figure out a way to display it when the bed is up.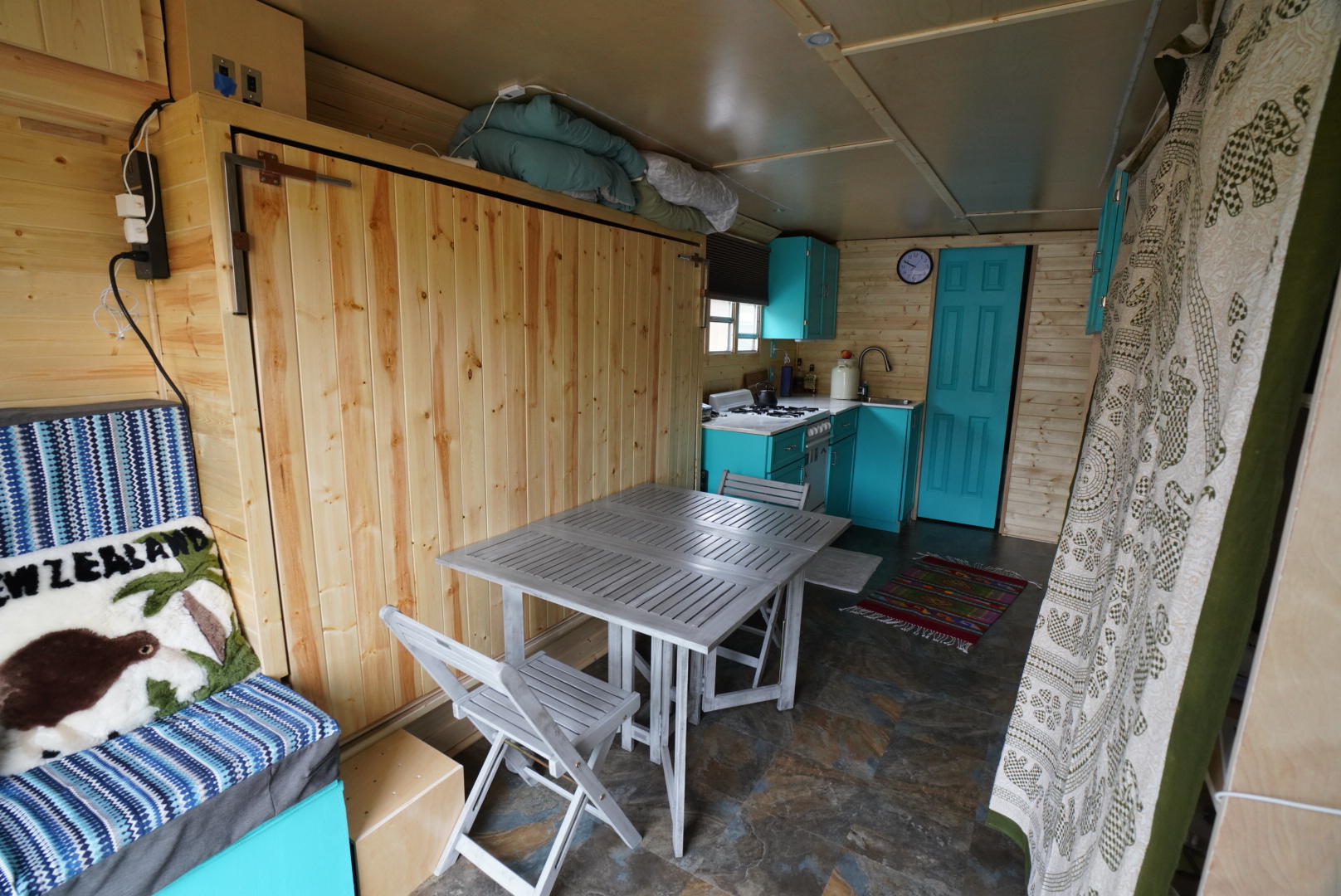 That IS pretty much it!
It really is incredible living in something we spent so much blood, sweat and tears on over such a long period of time. Looking back neither of us would have done anything differently besides finishing it sooner. We are living rent free and will spend the next few years saving and just enjoying our home. We have the freedom to move around town, or the country as we see fit. When Tiffany finishes up nursing school we may move to Canada or look for property here. The best part of living this minimalist lifestyle is the amount of freedom we have. We are so young, we don't want to commit to anything besides each other. We are getting married Fall 2018 and then we will see what the next adventure is!